The Center for Research in Electronic Art Technology (CREATE) presents James "Andy" Moorer (CCRMA, IRCAM, Lucasfilm, Adobe).
Saturday June 1st 2019 at 4pm, in Studio Varèse, Music 0314.
Dr. Moorer will present an informal sneak preview of his latest musical work-in-progress. This new work-in-progress, based on spoken voice, will have its official première in Fall 2019 at CCRMA, Stanford.
James "Andy" Moorer is one of the pioneers of computer music. With bachelors degrees in applied mathematics and in computer science from MIT, he received his PhD in computer science from Stanford University in 1975. Together with John Chowning, Andy Moorer was codirector and cofounder of Stanford's Center for Computer Research in Music and Acoustics (CCRMA) in the 1970s.
Between 1977 and 1979, he was a scientific advisor to IRCAM in Paris. Between 1980 and 1987, while vice-president of research and development at Lucasfilm's The Droid Works, he designed the Audio Signal Processor (ASP) which was used in the production of sound tracks for Return of the Jedi, Indiana Jones and the Temple of Doom, and others, including the well-known company THX, and its Deep Note audio logo.
In 1991, he won the Audio Engineering Society Silver award for lifetime achievement. In 1996, he won an Emmy Award for Technical Achievement with his partners, Robert J. Doris and Mary C. Sauer for Sonic Solutions "NoNOISE" for Noise Reduction on Television Broadcast Sound Tracks. In 1999, he won an Academy of Motion Picture Arts and Sciences Scientific and Engineering Award for his pioneering work in the design of digital signal processing and its application to audio editing for film. He recently retired from management of audio R&D at Adobe.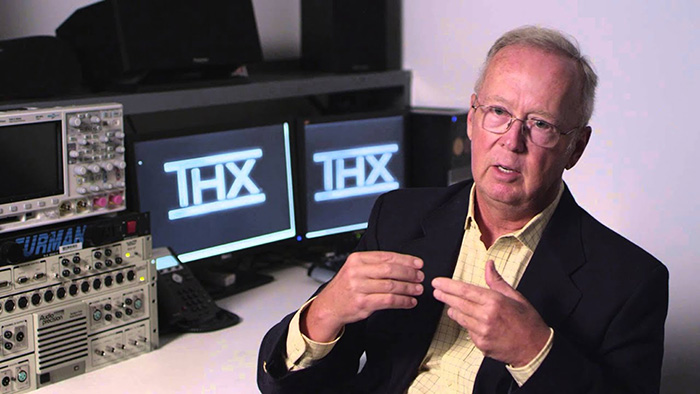 The Center for Research in Electronic Art Technology (CREATE) presents Swedish composer Ragnar Grippe.
Friday May 3rd 2019 at 5pm, in Studio Xenakis, Music 2215.
He will present a lecture titled "Vinyl streaming and the Groupe de Récherches Musicale (GRM)"
Ragnar Grippe has composed electronic music since 1973. Commissions from la Scala in Milan to film music, modern dance. His first vinyl record was released on the Shandar label in Paris (which also published Terry Riley, Philip Glass, La Monte Young, Steve Reich). This year 2019 DAIS Records in New York has released his modern dance piece Symphonic Songs - on vinyl. Grippe has lived in Paris where he studied at the GRM and with Luc Ferrari. He currently resides in Sweden. Last year Grippe collaborated with lighting designer Tobias Rylander to present Lumière Étrange at the Gagnef Festival in Sweden.
Sponsored by the Swedish Arts Grants Committee.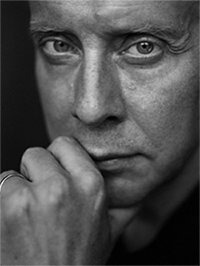 The Center for Research in Electronic Art Technology (CREATE) presents "Music Easel".
Thursday April 18th 2019 at 8pm, in Lotte Lehman concert hall.
The concert will feature the CREATE Ensemble, three works by UCSB students, and a solo performance by our featured guest, Oregon composer and Buchla synthesis maven Todd Barton. Mr. Barton will perform on a Buchla Music Easel, no digital electronics involved. The concert will be spatialized in eight channels.
A lecture by Todd Barton will also be held Friday April 19th 2019 at 12:30pm in Studio Xenakis (room 2215) in the Music Building.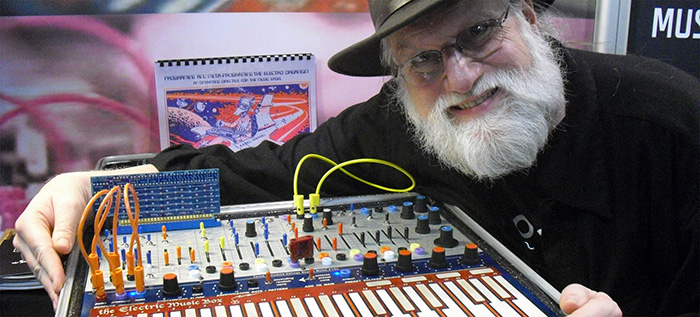 The Center for Research in Electronic Art Technology (CREATE) presents New Music for Voice: Technologies and Practices, a lecture by Nicholas Isherwood.
Monday March 4 2019 at 5pm. Studio Xenakis (room 2215) Music Building.
Nicholas Isherwood has sung in the world's leading festivals (Salzburg, Aix, Festival d'Automne, Avignon, Almeida, Biennale di Venezia, Holland Festival, Munich Biennale, Wien Modern, Händel Festivals in Göttingen and Halle, Tanglewood, Ravinia, etc.) and opera houses (Royal Opera House, Berlin, Frankfurt, Stuttgart, Amsterdam, Lyon, Châtelet, Théatre des Champs Elysées, Rome, Torino, Genova, La Fenice, La Scala, etc.), working with conductors such as Joel Cohen, William Christie, Peter Eötvös, Gabriele Ferro, Nicholas McGegan, Paul McCreesh, Zubin Mehta, Kent Nagano, Helmuth Rilling, David Robertson, Gennadi Rozhdestvensky and Arturo Tamayo.
Isherwood has worked closely with composers such as Sylvano Bussotti, Elliott Carter, George Crumb. Hans Werner Henze, Mauricio Kagel, György Kurtág, Steve Lacy, Olivier Messiaen, Giacinto Scelsi and Iannis Xenakis.
Isherwood collaborated with Karlheinz Stockhausen for 23 years, singing numerous world premieres. He has improvised with Steve Lacy, Joelle Léandre, David Moss and Sainkho Namtchilak. He has made 55 compact discs for labels such as Erato and Harmonia Mundi and has appeared in three films for television.
An active pedagogue, he has taught master classes at schools such as the Paris Conservatoire, Musikhochschule Köln, Salzburg Mozarteum and Conservatorio Giuseppe Verdi and held positions at SUNY Buffalo, Notre Dame, Calarts and the Ecole Normale de Musique. His book Techniques of Singing, was published by Bärenreiter Verlag.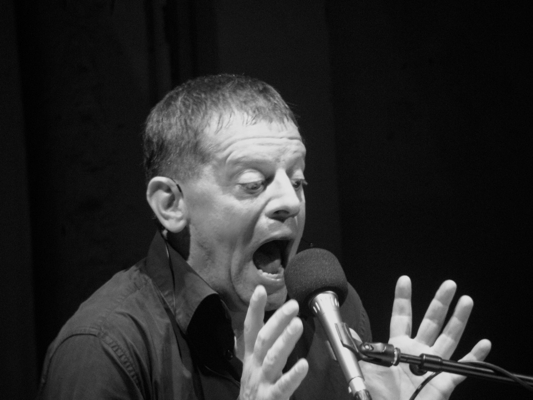 The Center for Research in Electronic Art Technology (CREATE) presents a screening of the pioneering film Forbidden Planet (1956).
Wednesday February 6th 2019, 7pm in the Lotte Lehman Concert Hall. Free admission.
The central theme of Forbidden Planet is the impact of artificial intelligence (AI) on civilizations. Forbidden Planet was the first science fiction film to depict humans traveling in a faster-than-light starship of their own creation. It was also the first to be set entirely on another planet. The Robby the Robot character is an integral supporting character in the film. The robot could analyze any substance and re-synthesize it.
Most importantly, Forbidden Planet was groundbreaking as the first film of any genre to use an entirely electronic musical soundtrack, composed by Bebe and Louis Barron.
Bebe Barron was invited to UCSB in 2000 to realize her final work, Mixed Emotions, using the Creatovox granular synthesizer developed by Professor Curtis Roads and Alberto De Campo, CREATE Research Director.
This showing is dedicated to her memory.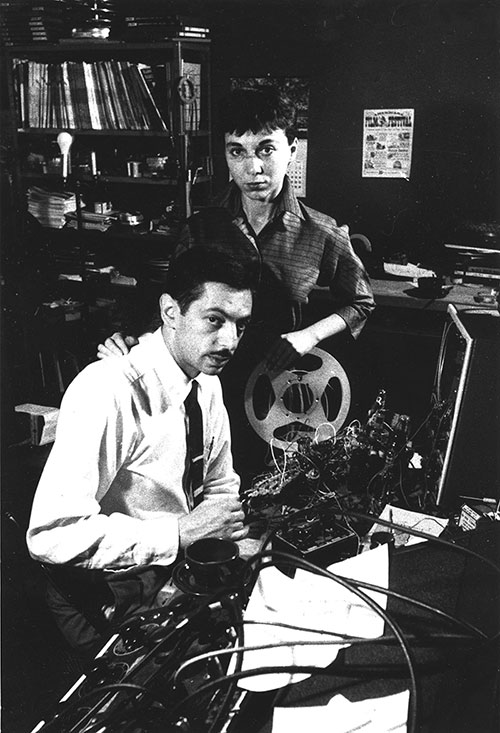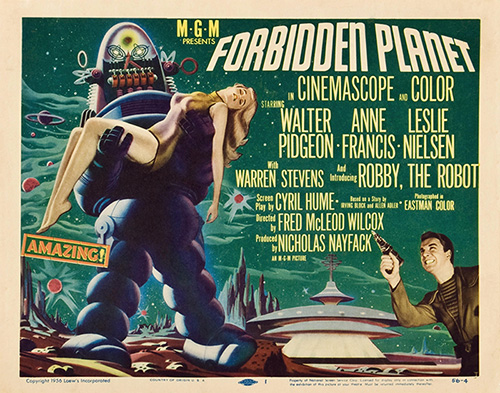 The Center for Research in Electronic Art Technology (CREATE) presents "Song of the Youths and Elders".
Thursday November 15 at 8pm, Lotte Lehmann Concert Hall
The program will feature works by faculty, staff, and students and a historical work, "Gesang der Jünglinge (Song of the Youths)" (1956), by the celebrated German composer Karlheinz Stockhausen (1928-1979). Featured faculty include Clarence Barlow, Jeremy Haladyna, and Curtis Roads. Featured students include Yissin Chandran, Lena Mathew, Stewart Engart, and alumnus Anthony Paul Garcia. Admission is free.
Time Shift
A Talk by performer/composer Thea Farhadian
Thursday, March 1st 2018, at 5pm
Studio Xenakis, room 2215 Music Building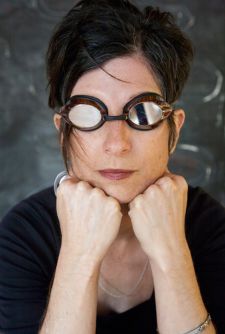 Thea Farhadian is a performer/composer based in San Francisco Bay Area and Berlin. Her projects include solo violin and interactive electronics, acoustic improvisation, solo laptop, radio art, and video. Her solo pieces for violin and electronics combine a classical music background with extended technique and digital processing using the program Max/MSP. In 2016 she released her solo CD, Tectonic Shifts, which integrates the violin with interactive electronics.
Thea's work has been seen internationally at venues which include the Issue Project Room, and Alternative Museum New York City, Galerie Mario Mazzoli, Sowieso, and Quiet Cue in Berlin, the Room Series, the Center for New Music, and Meridian Gallery in San Francisco, the Center for Experimental Art and the Aram Kachaturyan Museum in Yerevan, Armenia, International Women's Electroacoustic Listening Room Project at Bimhaus in Amsterdam.
Thea has held residencies at Steim in the Netherlands and at Bait Makan in Jordan, and at the Montalvo Arts Center in Saratoga, California, and has done several university presentation's and participated in panel discussions at Columbia University in New York, and the City University of London. Thea is a former member of the Berkeley Symphony orchestra where she played under Kent Nagano for ten years. She has an MA in Interdisciplinary Arts from San Francisco State and an MFA in Electronic Music from Mills College, and studied Arabic classical music with Simon Shaheen.
In 2009, she was a lecturer in the Art Department at the University of California, Santa Cruz.
For more information, visit: www.theafarhadian.com.
Multidimensionality in Augmented Performance
A Talk by Henrique Portovedo, Fulbright Visiting Researcher
Friday, February 23rd 2018, at 6:15pm
Studio Xenakis, room 2215 Music Building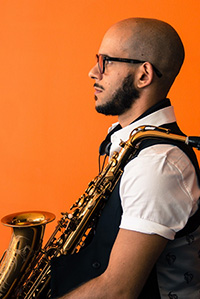 The changing paradigm of performance practice is creating new virtuosity. This work documents performance multidimensionality, identifying processes of musical expression in the field of new music including acoustic and electronic means, including the exploration of computer-mediated interaction and the use of Augmented Instruments. New mediums are currently seen as extensions of instrumental practice and available for creative purposes during the compositional and performative processes.
International D'Addario Woodwinds and Selmer Paris artist, Silverstein Pro Artist, Henrique Portovedo has found his place in contemporary music by working with composers such as R. Barrett, P. Ferreira Lopes, P. Ablinger, P. Niblock, M. Edwards, among others. Portovedo has more than 40 works for saxophone dedicated to him. He was soloist with several orchestras and ensembles including L'Orchestre d'Harmonie de la Garde Republican, Trinity College of Music Wind Orchestra, Orquestra de Sopros da Universidade de Aveiro, Sond'Art Electric Ensemble etc. Co-founder of QuadQuartet and Artistic Director of Aveiro SaxFest, he recorded for several labels including Naxos and Universal. He was artist in residency at ZKM, Karlsruhe, visiting researcher at Edinburgh University and is now visiting researcher at UC Santa Barbara supported by Fulbright Foundation. Henrique is member of the European Saxophone Comité, Tenor Sax Collective, President of the Portuguese Saxophone Association and was the artistic director of the European Saxophone Congress 2017. Henrique gave concerts and masterclasses at prestigious festivals and conservatoires as Real Conservatorio Superior de Musica de Madrid, Conservatoire Royal de Bruxelles, Mallorca SaxFest and Conservatori Superior de Música de les Illes Balears, Trinity Laban Conservatoire of Music & Dance, Hochschule fur Musik Karlsruhe and more.